Industry-specific dictionaries
We develop and produce digital, bilingual dictionaries – primarily in "exotic" languages – as well as the corresponding interfaces (software) for integrating the products into companies' business systems. We use customer and industry-specific word sets for this, digitizing what we derive from frequently used texts by way of corpus analyses. For instance, we create a technical or medical dictionary in your preferred language, which we then integrate into your internal and/or external communication channels. All our developments are exclusively for the client's in-house use and are protected from being read by external sources.
Customer & industry-specific, bilingual dictionaries
Preferably in "exotic" languages (e.g., Somali, Uzbek, Yiddish, Niger-Congo languages)
Protected from unauthorized disclosure & processing of personal data
Dictionaries are usable in browsers as well as in a company's own business systems
Development of interfaces (software) to integrate the dictionary into existing systems (e.g., Intranet)
Development & integration of features (e.g., keyword search and document classification)
Fast development times (six months on average)
ISO 9001-certified company
Product
Our dictionaries are tools for businesspeople & translators who electronically process written texts in their daily work. We develop and produce dictionaries for special content and language use for this target group, preferably in "exotic" languages, which we then integrate into a company's business systems. This eliminates the need for internal changes – the existing work processes are simply expanded to include the commissioned dictionaries and features.
Depending on the situation, we determine the words to be used from relevant, existing volumes of texts that we either receive from the client or research independently with our team of native speakers. The result is a statistically based product that makes use of a relevant vocabulary. What's special about our dictionaries is that word forms are automatically recognized and assigned, even if a word is searched for in a modified spelling.
Continuous monitoring of the respective language enables us to flexibly adapt the developed dictionaries and keep them dynamic. Our products can be extended with extra features if desired, including keyword searches and/or document classification at any time. Since security is paramount for business processes, all of our dictionaries are protected from unauthorized release and processing of personal data by external sources. All dictionaries run exclusively on an internal company network – access can be limited to a desired circle of users.
Research, Analysis & Recruiting
To start, we research the commissioned industry-specific word sets using specialist literature and the internet. We then sort the researched words according to their frequency (corpus analysis), translate them, and develop the corresponding basic morphosyntactic grammar. We work hand in hand with our team of well-trained native speakers who have an affinity for the language required.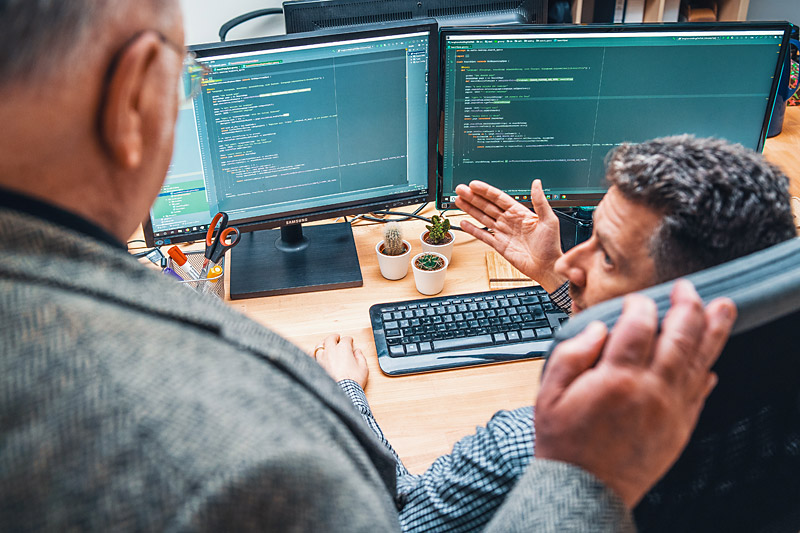 Developing, testing, documenting: In collaboration with our native speakers, we design the dictionary on the basis of corpus analysis and automate the development of word forms. We develop both the dictionary's front and back ends and integrate them into your operating systems. We can also expand the software with additional features if so desired. The engineering further includes a continuous monitoring of the use of the respective language.
We provide product training in which we teach you how to use the software. Our technical personnel provide direct 1:1 support. Because close customer contact is very important to us, we pay attention to our clients by quickly clarifying questions that arise and promptly reacting your operational needs. Project support is an ongoing process in which we bring ideas to you and take your ideas with us to further refine the dictionary.
Recruiting Specialists & Linguists
ISO 9001
As a company certified to ISO 9001, our quality management focus is on our clients. All work processes are normed and documented.
About ISO 9001

ISO 9001 is the leading international quality management standard around the world. Created by TÜV SÜD Management Services, it confirms the reliability of a company's quality assurance (QA) programmes. ISO 9001 stands for quality, security, credibility, trust, and reputation.

Quality Assurance

One of the essential principles of ISO 9001 is a process-oriented approach ensuring that important processes are coordinated with one another. All employees receive the correct training and the right material resources they need to efficiently implement projects. Potential problems are identified and eliminated beforehand, guaranteeing effective internal and external organizational structures.

Quality Goals

As a company certified to ISO 9001, SAFIR GmbH has the following quality goals:

Offerings are determined by the current state of science and technology
Customer orders are implemented based on defined budgets
There is strict adherence to planned delivery times
We ensure all of our employees are professionally qualified
The quality of all products is quantified and documented

Client Benefits

As an ISO 9001-certified company, SAFIR GmbH guarantees the following:

Quality assurance
High customer satisfaction
Security
Good time management
Efficient project planning
Audited operational procedures through both internal & external authorities
In-house documentation & proof of operational procedures
Long-term & sustainable business development
Regular risk assessments
SAFIR GmbH
As an ISO 9001-certified company, we have twenty years of experience and expertise in developing and producing digital dictionaries and the associated software for integration into business systems. We specialize in B2B solutions. All of our products are protected from data readout by external sources. SAFIR GmbH delivers innovative customized solutions, security, reliability, and quality products.
Founding
SAFIR GmbH was founded in 1998 by Robert Neumann in Mannheim, Germany. With the advent of computer-aided dictionary generation, the idea of corpus-based language development and associated software in a business context was born.
Expansion
SAFIR GmbH grew in 2010 due to an increase in orders. This is the time when Aria Sheva joined the team. She holds a degree in industrial engineering and is now the company's CEO.
Berlin
The company relocated to Berlin in 2016 and Jan Neumann became CTO of SAFIR GmbH. Aria Sheva and Jan Neumann also both became shareholders and managing directors, establishing the Berlin office together.
Today
In 2019, SAFIR GmbH is run by the three managing directors named above with an international team of 25 freelancers in the areas of programming, linguistics, translation, and the sciences.
Team
Our team consists of the three Managing Directors Jan Neumann, Aria Sheva and Robert Neumann as well as 25 freelancers in the areas of programming, linguistics, translation (all well-trained native speakers), and the sciences. Quality, loyalty and a common work ethic are what unite us in our daily development and production processes. Our international team can be flexibly deployed and can be scaled up depending on contract volume.
Chief Technology Officer Jan Neumann is the technical director of SAFIR GmbH. He heads the development team and is responsible for information technology, documenting business processes, and quality management within the company.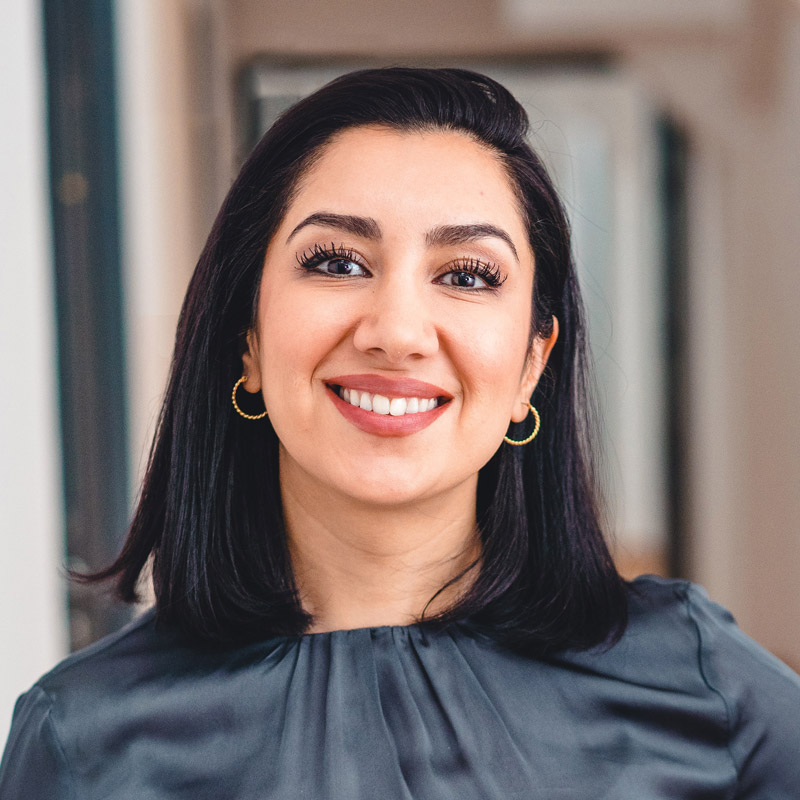 Chief Executive Officer Aria Sheva is responsible for project and personnel management, acquisitions and communication at SAFIR GmbH. Ms. Sheva speaks five languages (including Persian languages, Russian, English) and holds a degree in industrial engineering.
Director Robert Neumann, who is also the founder of SAFIR GmbH, mainly works as a consultant. After studying linguistics, the former director of linguistics data processing at IDS Mannheim has direct access to the scientific and university communities.
Office Manager Tilmann Cramer oversees our Berlin offices. He coordinates and organises all the day-to-day business and assists with preliminary bookkeeping. He also digitises text materials for our dictionaries.
Computer Linguist Alina Klie edits and reviews word lists and writes algorithms for detecting morphosyntactic grammar. She the first in-house contact when it comes to creating new dictionaries – as a linguistics specialist, she assesses languages for their complexity and characteristics.
"We develop dynamic translation tools that don't require you to pay with your personal or business data."
Jan Neumann (CTO, SAFIR GmbH)
"We keep dictionaries up to date – even daily, if necessary."
Robert Neumann (Director & Founder, SAFIR GmbH)
"We develop dictionaries for exotic languages in order to facilitate business communication."
Aria Sheva (CEO, SAFIR GmbH)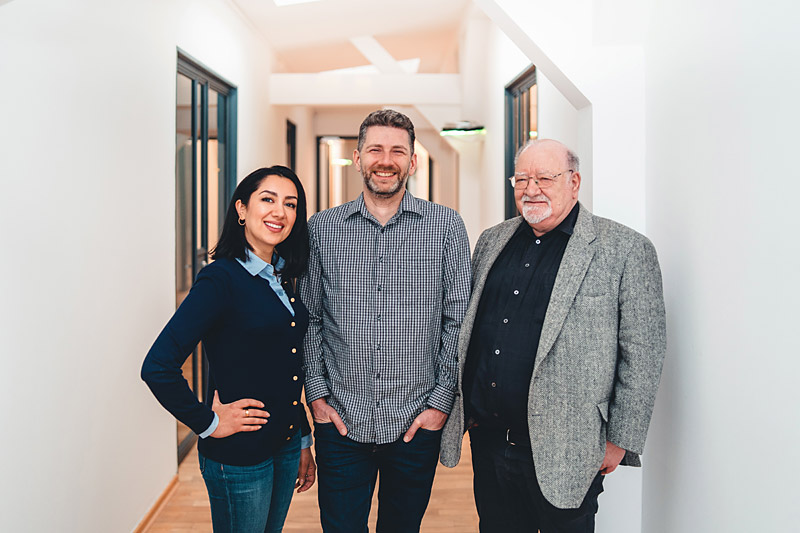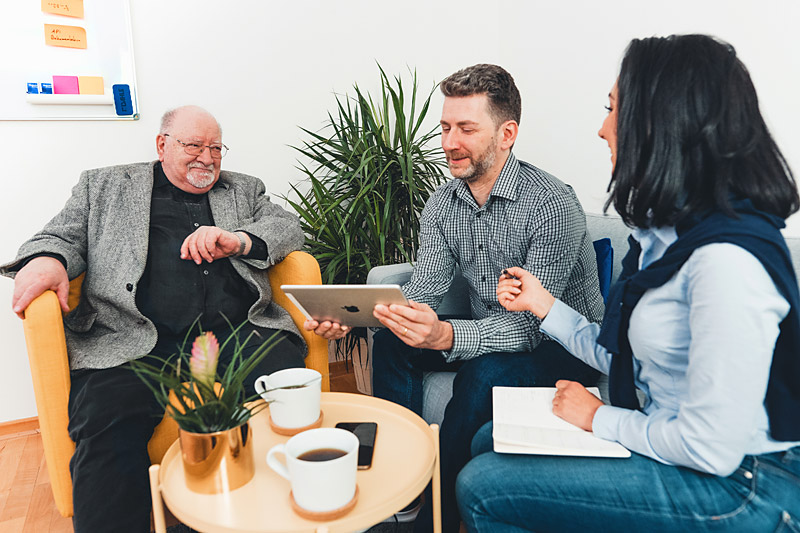 Clients
Our product is aimed at businesspeople in all industries and translators who require a digital dictionary that can be integrated into existing business systems and that is protected from being read or scanned by external sources. Whether internationally operating companies, public institutions, or cultural organizations – our customers include national authorities and Culture Atlas of Ashkenazic Jewry. We develop and produce customer- and subject-specific dictionaries in primarily "exotic" languages. Our company's work languages are German and English.